Tour Report: Mainz 2019
Report by Alan Robertshaw
Freitag, 29 Maerz.
The morning was spent by most wandering around a huge market in the huge market place. Among the usual stalls there was an egg-seller who had a huge chicken sitting on his stall, and a barrel-organ man (can't recall if he had a monkey), who was not huge. In the fine weather the nearby waterfront on the Rhine was a very pleasant place to relax.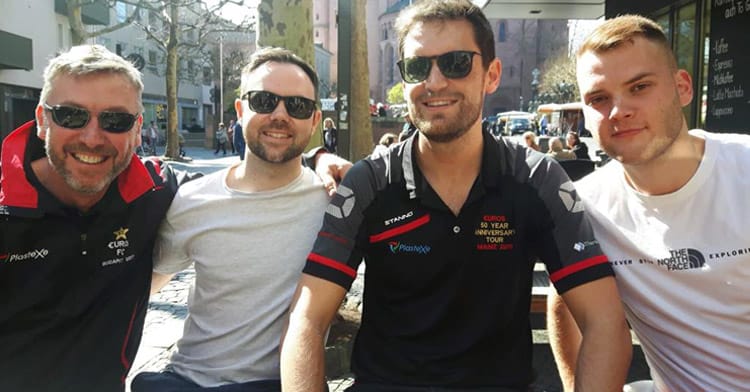 That evening was the main event, and, I think it's safe to say, turned out to be the mainest event in the distinguished history of the Reds, worthy of their 50th anniversary. At one corner of the pitch stood a Routemaster London bus, minus its roof, which served as a commentary box. And it did have a commentary. As the players lined up on the touchline, the man on the bus announced the name of each player on both teams, even giving our lot each a number they didn't have, and this with musical accompaniment. There was also a man wandering round with a microphone, holding interviews for the local radio. (When he came to me, he seemed more interested in asking about David Cameron, so I told him Cameron didn't make the team.)
We were already reminded of why else this was a big event. After the tour was arranged it became apparent that this weekend coincided with the date originally fixed for – sorry to have to include this word – Brexit. In other words, if all went to plan, we would travel to Mainz as members of the EU, and have to talk our way back into the UK as foreigners or economic migrants. Our hosts had devised a brilliant poster (attached, hopefully, thanks to website wizard Lammy) for the big game that was headed: 'Brexit, to be or not to be?' And though they could hardly have guessed it, their headline is still with us seven months later.
Zweite Runde The game is billed on the poster as 'The Seniors of TSG Drais vs The Seniors of Exeter', with a welcoming message: 'TSG Drais welcomes exactly on the the Exit Day (?) of Great Britain their guest teams from Exeter (GB)!'
This match was, as I said, billed as a game between two teams of seniors, though unusually for our lot, the opposition was clearly more senior than they were. Though the home side did have more possession in the opening minutes, they seemed to me to be playing in slow motion, which led me to say to myself: 'I could have played in this, for them'. So I couldn't have predicted what followed. Euros seemed to be taking it easy, after the hectic pace of last night's game, allowing the opposition to play the ball around. They managed to push up several times, but Chris and Kev couldn't find a way through, and Qaisar tried a shot from about forty yards. This lack of penetration from the Reds continued, and the shots they managed were either too weak or off target. I spotted one of our side – who shall be nameless – falling over with nobody anywhere near. At this point I was accosted on the touchline by the roving radio reporter, during which time the Rot-Weiss side started moving the ball around much quicker, and suddenly Euros found themselves two goals down. Though a through ball from Ross was flicked on by Qaisar to Chris, his header was well saved. This was one of the few times the visitors got into the opposing half, whilst the Drais seniors continued to up the pace and keep Kieran busy with shots from all angles. I was glad to see the referee blow his whistle to end one of the worst halves I had ever seen a Euros team play. (Even a hangover was no excuse).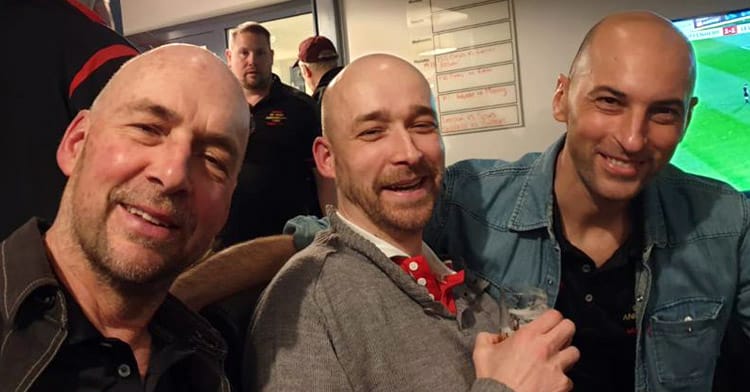 Another surprise came in the break, when we were entertained by a firework display. I hoped the away side might take a cue from this, and produce a few fireworks in the second half, but the hosts continued to play with more confidence, moving the ball around at will. Finally a Euros break put Chris in the clear, and while the home defence stood and appealed for offside (and the away fans seemed to agree with them), he dribbled round the goalkeeper to score.
Whether or not Rot-Weiss were affected by this turn of events, the visitors found some belief, won a corner, then a free kick from Rob looked likely to produce a result, but the home defence stood firm. A shot from Richie and another corner seemed to be pressing home their advantage, but when the corner was cleared the ball was moved at great speed down the right wing, and a cross and a tap-in followed.
Despite this further setback Euros seemed finally to have come to life and really gave their supporters something to cheer about, as Richie sent Rob down the right flank, Qaisar controlled his cross and beat the goalkeeper with a cool finish. Shortly after this one of the Rot-Weiss seniors, Holger, also the main organiser of the event, limped off behind our goal with an injured shoulder, and while I went to check the damage (nobody else seemed interested), Euros scored an equaliser at the other end (Qaisar again, I was told). They had just managed to survive a footballing lesson: never underestimate the opposition.
Zweiter Abend.
Everyone then repaired to the sportsbar, where another vehicle was stationed: the Food Truck, a novel use for a school bus, it seemed - see the poster again, with the further message: 'Enjoy our German-British classics', listed as 'Schnitzel with fried potatoes vs Fish and Chips Currywurst vs Salted Beef Bagel [GB or US?] Red Fruit Compott vs Apple Crumble' 'and in addition: roast vegetables, paninis, and much more.'
There was, of course, no lack of the local beer, at which point I remembered a tradition of my student days in Germany ( including Mainz, a famous Karneval - mardi gras - location), which involved a Schnapps chaser after a beer. This didn't prove too popular, but most humoured me by trying it. The kitchen and the food truck were very much appreciated.
There followed speeches, including one by your reporter, trying to wake my German language from hibernation. The trophy for the football was awarded to the Exeter team, on what might be seen as a technicality: they drew that night's game.