Tour Report: Mainz 2019
Report by Alan Robertshaw
The destination for this year's European tour was, for the first time, Germany, more specifically Mainz, thanks to our connection there with the Cook family. Matt was working there, and had made a very useful contact with Rot-Weiss Drais, so we were visiting a regular football club – for the first time, to my knowledge – instead of a side assembled just for the occasion. Drais is a suburb of Mainz, and the name of the team – Rot-Weiss – simply their colours. (Translation unnecessary, I'm sure).
Donnerstag, 28. Maerz.
The Euros squad was rather larger than in some years, which was just as well, as two games were scheduled instead of the usual single fixture. I list here the usual roll of honour, in no particular order (as Tess would say), with apologies to any who don't get a mention again: Nico Maretto, Duncan Hepple, Ross Dunbar, Richie Willmott, Kieran Innals, Martin Innals, Chris Cook, Harry Cox, Craig Beresford, Qaisar Iskander, Rob Hicken, Meat, Kevin McMeeking, Paul Webb, Paul Ruddock, Steve Grange, supported by Neil Webb, Graham Cox, Bill Edmunds, Glen Dunbar, Matt Cook and the press.
This trip was going to be more demanding football-wise, especially as the first game was the evening of the day we travelled. My own journey was rather eventful, as the BA check-in machine didn't recognise my ticket, so the flight nearly left me in Heathrow. I just managed to squeeze through the plane-door, and was of course welcomed enthusiastically by the rest of the gang as I staggered down the aisle. Apparently there had been an announcement about a missing Professor.


This was probably all a plot to leave me behind. They tried to get rid of me again on the short train journey from Frankfurt airport to Mainz. We had to change trains half-way there, and, for some reason I can't recall, the connecting service containing the rest of the party was just leaving the platform as I crossed over to it. But the Euros team spirit prevailed, and they waited for me in Mainz station. We had managed to get a group ticket for this train journey; while I negotiated with the helpful ticket-lady, Ross and his brother made a list of our names that was required for the ticket. She probably didn't notice that the party consisted entirely of gentlemen with names identical to those of past and present stars of Man. City FC.
Time was getting short, so we had to make a quick turnaround at the riverside Hilton (the tour accommodation is getting progressively posher), before catching a bus to the football ground. This was also a step up from some earlier tours, as the pavilion there advertised itself as a 'sportsbar with a difference'. The difference seemed to be that it was a well-stocked bar that produced home-cooked food, as well as a visiting burger van, and served the local community as well as football and other sports. In addition, the bar was run by Lisa, an emigrant lady from Harrogate: what more could you want? (Except Yorkshire Pudding, but fish and chips were on the menu, so Chris and I could still feel at home.)
We arrived at the ground not much before kick-off time. Let's get the excuses in first: the Euros are a part-time team, who play a friendly match of just an hour a week for a shortish season, almost always play at home, are in the main not in the first bloom of youth, they had been travelling from Exeter since the crack of dawn. The opposition are a league side, in the eleventh tier down from the Bundesliga – I'd estimate Exeter Premier or above – and play regularly [they are currently challenging for promotion at the top of their league]. Thursday is their training night, hence their availability to play a match that Thursday, at home. In short: that day we were second favourites.
Erster Runde: Rot-Weiss Drais 7 Euros 3
I got to the pitch just as the first goal went in – nothing new there – an angled shot into the Euros net. The away side then created chances of their own, but the shots from Harry and Craig didn't trouble the Drais goalkeeper. The hosts went further ahead when a nippy runner bisected the Reds defence and Kieran couldn't keep out his fierce shot. But the Euros keeper then foiled further attacks, with particularly good saves in a couple of one-on-ones.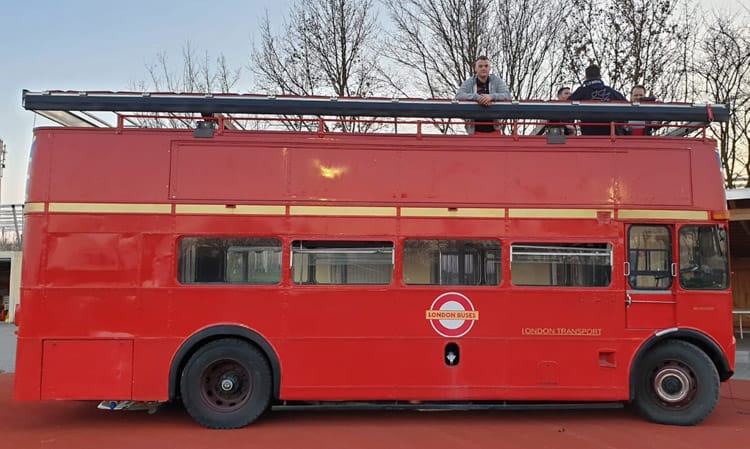 Despite being three goals down at half time Euros had not been completely outplayed: Ruddock had pulled one back and also came close to reducing the deficit before the break. They also began the second half on the front foot. Harry controlled a dangerous cross from Nico, but his way was barred, as often, by two large and watchful defenders. As the attacks petered out, Rot-Weiss seized on a wayward pass and an unstoppable low shot increased their lead. Euros were then twice subjected to penetrating runs from the left wing, and though a post saved the first shot, the second bullet was on target.
Despite this pressure, the Reds didn't let their heads drop, and kept coming back on the attack. Only an excellent save prevented Ruddock from scoring as the keeper was at full stretch, diving low to his left. Their efforts were finally rewarded when Ross's corner was touched on to Webby, who finished in style. Then, after Kieran saved at the other end, another foray put Ruddock in a good shooting position in the opposing penalty area, but he was nudged off the ball, and Chris stepped up to coolly convert the penalty.
Euros had fought back well in the second half and were winning it on the scoresheet until the visitors got another goal, and after Kieran had touched a curling shot over the bar, they conceded one more when the corner that followed produced an own-goal (wonder who that was ?). Though they had been up against a tough task from the start, against a side with a solid defence and a lot of pace in attack, they were by no means disgraced in defeat. And we did the hosts a favour, by giving them a stiff test before their next league match.
Erster Abend We finally got back to the Hilton soon after eleven. This apparently also meant 'soon after all the restaurants round here close'. Having failed to come up with any eatery by phone, we set off to find food somewhere. We got the expected answer, including at a pleasant-looking pub I tried, just closing. But as we walked away, one of its doors opened, and the landlord shouted after me, asking how many and did we eat steak? 'Is the Pope a German?', I replied. (Actually, I didn't, because that pope retired, ruining my best gag.) The troops were recalled and we had an excellent meal.